Letters to Lori
First Edition - Signed - Personalized Copy - Free S&H
(Free S & H when shipped to addresses within the USA only)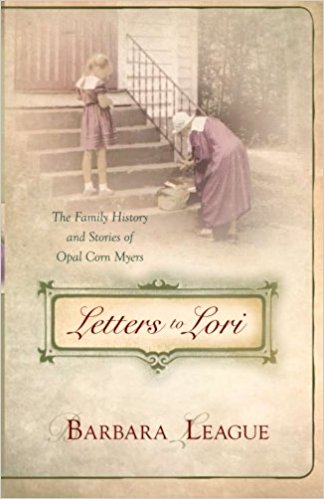 The inspirational AWARD WINNING Letters to Lori will challenge you to look at life differently.

You will laugh. You will cry. You will delight in the mischievous and feisty antics of a poor little mountain girl and love the person she becomes as she sets out to bring change to her impoverished community.

Can you imagine waking up on a freezing winter day with a blanket of snow covering your bed and the floor? No running water. No indoor plumbing, not even an outhouse!

Miss Marston, the mission worker, told Opal and the other young students, "Just because you're back here in this little community, don't you ever think you can't become something special! God has a wonderful purpose for your life and He will put special dreams deep into your heart to help you discover His plan. Your life work is to listen to God and to do what He says. With His help you can become anything He has planned for you to become." Opal believed her.

Opal's true stories demonstrate that with God absolutely nothing is impossible!

At the end of Opal's life, her only regret was not being able to rebuild the mission. Opal may not have rebuilt the physical mission, however, her life itself was a beautiful "mission" that goes on today in the lives of the people she touched. That circle will now be expanded to include the readers of Letters to Lori.
Your Choice
First Edition - Personalized and Signed plus
FREE "Behind the Scenes"
E-book PDF
$15.95
Free Shipping & Handling
(Continental US only)
Order here through PayPal
Or
you may order through Amazon.
Paperback $15.95 - Kindle $5.95
NOTE: Books ordered through Amazon WILL NOT be signed or personalized
Review
Barbara League reminds us of the passion and dedication of missionaries around the world. Rich in history and culture, Letters to Lori is a testament to the faith that moves mountains through the life of Opal Myers.
- Pamela Guerrieri; Literary Judge (ECPA, Christy Awards, RWA)