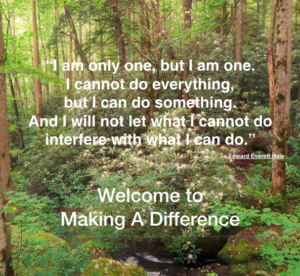 Welcome to Making a Difference! I've always enjoyed encouraging and inspirational stories. Haven't you?
Of course, it's even better when those stories are true. I love it when the underdog wins. You know, when the "loser" becomes the "winner," when the "bum" becomes a "blessing," when the "jerk" becomes a "joy," when the "wounded and insecure" become "whole and empowered." I love celebrating the lives of everyday, ordinary people who've accomplished extraordinary feats. And I especially enjoy hearing the testimonies of those, considered by most as a hopeless cause, changed through the power of God.
My husband and I have worked in recovery ministry since 1981, so you can be sure I've seen all of the above over and over, year after year - and it still thrills my heart. This kind of change is only possible with the help of God. The Creator recreating! And It all begins with the realization that without Him permanent change is nearly impossible. It's the first step in recovery of any type. "Realize I'm not God. I admit that I am powerless to control my tendency to do the wrong thing and that my life is unmanageable."
Both in our 70s, we are now retired and in the "FUN" process of downsizing with our plan being to move into something more suitable for us within the next two years. That will possibly be in Pittsburgh so we can live closer to our daughter and family. I'm sure we will always miss working with men and women struggling with addictions and other life-controlling issues. Makes me a little sad but knowing my God, He won't let our lives go to waste.
While sorting through and getting rid of a lot of "stuff" I realized I have several cases of the first edition of "Letters to Lori." This is the edition with pictures of Opal and Hollywood stars (Stewart Finlay-McLennan, Randall Batinkoff, and Mike Hickman) from the Christy TV Series, as well as, the shows producer/writer (Tom Blomquest), and executive director (Ken Wales).
So, you have the choice of purchasing Letters to Lori through Amazon or on this website through PayPal.
Check out the prologue and "What Readers Say" on the bottom of the Home Page.
And click here to purchase Letters to Lori, first edition, and receive this BONUS E-BOOK. (Bonus NOT AVAILABLE when purchasing through Amazon.)
Each book will be signed and personalized just for you!
Thank you for stopping at my site. This site is new, but you can be assured it will continually grow and become a place you can visit to renew your hope and refresh your spirit. Comment, if you'd like. Tell me your story! 
Click here to purchase Letters to Lori paperback or Kindle on Amazon. (Remember, Bonus E-book only available when purchasing first addition through PayPal.)